In Luxor Madrid we are experts in erotic couples massages and of course we are also experts in massages for couples.
Different studies reveal the benefit of this kind of massages for all those couples that want to innovate in their intimate relationship, as they are perfect for stimulating the senses, increasing sensations, and learning more about our sexuality and that of our couple.
It represents a more extreme and closer intimacy, something affectionate, long, sensual, erotic and passionate. It opens the mind in such spectacular way of incomparable seduction that imposes to ecstasy and then concludes in sexual intercourse filled with arousal, emotion and passion.
With our erotic massages in couples we offer the possibility of learning how to caress, how to touch, stimulate and excite your partner by the hand of our professionals (female and male) of eroticism. Thanks to our cozy facilities and experienced therapists it will be a natural experience, pleasant and unforgettable for both.
Choose your perfect tantric massage among our variety of massage in couples and give yourself a gift full of pleasure and love.
"Brahma" massage in couples:
It is an incredible erotic massage with a therapist, an intense body to body and mutual massage where the therapist will work using the Body to Body techniques for a unique experience.
It is a very visual massage, so if you have the fantasy of watching step by step how they give a massage to your partner, then this is your perfect option.
Normally a member of the couple receives the full massage and the other remains as a spectator of the whole process of massage, which results very stimulating for both (voyeur version).
| Duration | Price | Nature version price |
| --- | --- | --- |
| 60 minutes | 250€ | 300€ |
| 90 minutes | 350€ | 400€ |
| 120 minutes | 450€ | 500€ |
You can also design the massage in such way that both receive it from a therapist (luxe version) – if the massage given by two therapists then it seems crowded. In this case we recommend you choose the 90-minute option, where there is enough time for enjoying a good massage for each one.
| Duration | Price | Nature version price |
| --- | --- | --- |
| 60 minutes | 300€ | 350€ |
| 90 minutes | 400€ | 450€ |
| 120 minutes | 500€ | 550€ |
At the end, you will have 20 minutes to enjoy your room in intimacy.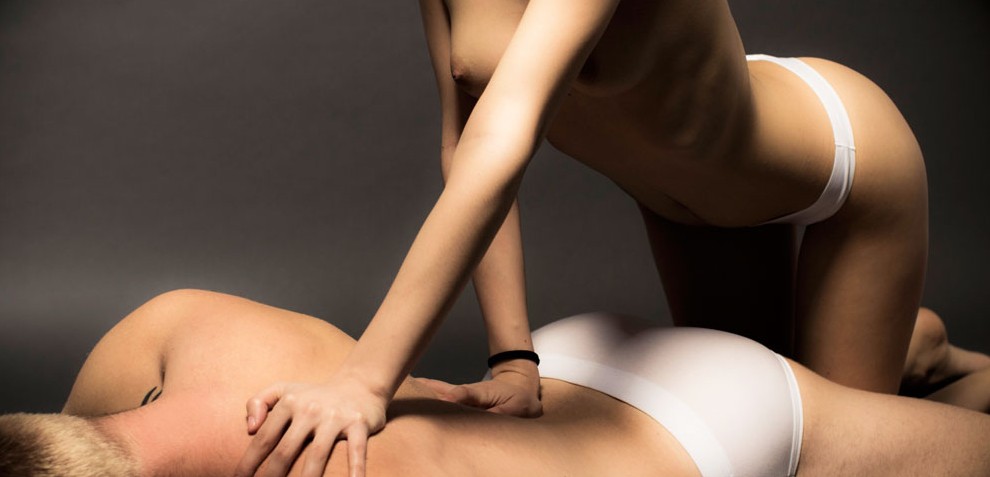 "Shiva" Massage in couples:
A fabulous relaxing massage with two therapists where you will be able to choose between male and female therapists or two female therapists. When performing the massage with two therapists you play equal terms and receive the same treatment simultaneously and synchronized.
This massage in couples is the light version of our tantric massages.
It mainly works with the hands, therefore does not have Body to Body techniques and it is a receiving massage.
It is also a way to take a first contact with Tantra for those couples who are shyer and not necessarily for those who are trying for the first time. At the end of the massage in couples, your therapists will go away and leave you in intimacy so you enjoy the received sensations and share them for 20 minutes.
| Duration | Price | Nature version price |
| --- | --- | --- |
| 60 minutes | 250€ | n/d |

"Vishnu" Couple Massage:
It is certainly our main massage, the most demanded by our customers. In this option both parts of the couple will simultaneously enjoy a sensual and interactive massage with a high erotic charge in the same room and with two therapists.
Always according to your taste and preferences you can choose two beautiful therapists or a male therapist and a female therapist.
It is one of the most exciting massages as it combines the best tantric and Body to Body massage techniques, seeking major sensual climax every moment.
Each therapist is focused on one member of the couple, being able to see at all times how the other person enjoys this intense erotic experience. Since it is a mutual massage, you can interact with the therapists by caressing their body and among yourselves.
As always in our couple massages, you have 20 minutes of courtesy to enjoy your intimacy without the therapists.
| Duration | Price | Nature version price |
| --- | --- | --- |
| 60 minutes | 400€ | 500€ |
| 90 minutes | 550€ | 700€ |
| 120 minutes | 700€ | 900€ |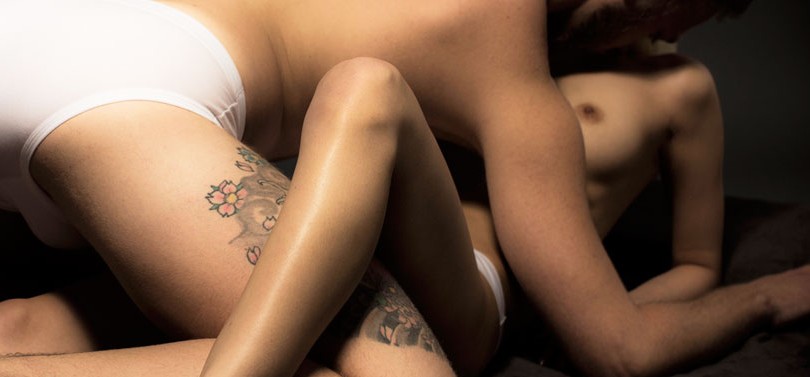 "Luxor" Couples Massage:
Only for the most daring couples, those in which maximum confidence reigns and are free of shyness… we offer this exclusive massage highly exciting with two therapists.
In this massage tantric techniques of genital stimulation reign, which are included at the end of all our erotic massage.
These techniques are known as Lingam massage in men and Yoni massage in women – enhancing orgasm by delaying it and making it more intense than usual. Our therapists are perfectly trained to perform them professionally and exclusively.
In Luxor massage you will experience it not only at the end, but also at the beginning of the massage. Two genital stimulations, at the beginning and at the end, where you can feel an electric orgasm all over your body… do you dare?
| Duration | Price | Nature version price |
| --- | --- | --- |
| 60 minutes | 500€ | 620€ |
| 90 minutes | 700€ | 820€ |
| 120 minutes | 900€ | 1020€ |

Couples Erotic Massages
An erotic massage can set the stage for an unforgettable moment for couples. Offered by a lot of massage center and spas, couples erotic massage offers a way in which partners, spouses enjoy a massage at the same time.
Couples erotic massage can take you and your partner to the highest point of ecstasy. However, it is important to note that couples erotic massage does not necessarily mean sex at first but it incorporates different strokes and techniques that are absent in traditional massage.
This kind of massage is what couples use to express their innermost feelings and provide themselves with a wonderful sensual experience. Do not forget that in couple erotic massage, the energy go both ways.
There are obvious advantages of erotic massage for couples. For example, erotic massage for couples help build better intimacy between couples, learning about the sensual parts of you and your partner, spicing of the couples sex routines among others.
Couples erotic massage go a long way to bring the couples closer to each other during these kinds of massage session.
Connection is more important than technique
As long as there is a proper connection between the couple, the massage technique does not really matter a lot but what really matter at that point is always the love, tenderness and the respect that comes in between the couples to make the experience mutually enjoyable and pleasurable. For couples who have not tried this kind of massage before, it will be a good opportunity to give and receive pleasure at the same time, this could one of the most adventurous thing you could ever do.
In couples' erotic massage, couples can declare their love with just their strokes and delicate touches in a relaxing and romantically charged atmosphere. The atmosphere can be decorated with dim candle light, scented oil and soft romantic music that brings the mood of the couples into an intimate situation. The couples will now have to shut the world around them and get ready to concentrate on each other for the period of the massage.
Couples erotic massage brings partners to a higher level of intimacy and connection through the simultaneous breathing and heart beating. As the massage session heats up, you and your partner can explore the inner most sensual parts of your naked bodies.
What's important about couples massage
One good things about the couples erotic massage is that it is special in the sense that both partners play the role of giving and receiving pleasure at the same time or turn by turn.
In this case, pleasure is always mutual and that is why it is better and more exciting than other traditional massage which seems to be a one way massage. In couples massage, there is no need for the partners to be licensed because the enthusiasm and the care will surely make up for the lack of techniques and skill. At the end couples feel better about themselves with the little techniques and skills they are able to display during the massage session.
In couples erotic massage, you may use your hands but there are also other options like body to body massage which uses oil to glide over your partner body.
However, this technique is normally for those who are sure of their techniques. Whatever the case, couples performing erotic massage always feel like jumping into the ocean of tenderness where they treat each other with gentle embraces. With the caressing and sensual rubbing, couples bring each other from total relaxation state to a state of total arousal.
As the tension leaves your body and every touch on the body start sending waves of pleasure that each other's spine, the next step will be concentrating on the erogenous zones and then make some vibrations go through the genital area.
Remember that the aim is not just a love making but it is about some simulations that make couples prolong pleasant sensations to the point where the reach the reach that threshold of sensual ecstasy through mutual erotic massage.
How Can Couples Do Erotic Massages?
Like mentioned earlier, couples can use erotic massages to express their feelings for one another and put each other into an erotic mood. The difference between other types of massages like the therapeutic massages and erotic massages is that while the former helps people get rid of their body aches and pains, erotic massages is what makes couples relax and enjoy romantic moments.
Erotic massages helps couple spend time together, keeping other issues aside and just bonding closer to each other. Couple erotic massage is easy to do if couples will put their mind to it. The following steps can be used to set the ball rolling.
Step 1: Pick up a date
The first thing couples should do is to pick a date when they are going to engage in erotic massage.
Any date picked should a date and time when there would be no atom of disturbance from anyone. If couple have children, it will be a good idea to send them for a short holiday to visit their grannies or relatives. Then shut of your phones and turn off the computer and any gadget that could divide your attention like television. Make sure you take your bathe before coming close to your partner. You do not want to come close to your partner having some unpleasant smell, that would be an instant turn off and this will defeat the aim of the erotic massage all together. Get yourself clean and comfortable enough to get close to your partner.
Step 2: Prepare the massage place
Start setting up the area where the massage is going to take place.
The massage can be done on a bed, sturdy table and a massage table. Get a clean sheet and spread it on the massage surface. It is important to note that any sheet you use should one that can be let go in case of an oil stain. During massage session, it is not out of place for the sheet to get stained with massage oil. Then set up dim candles all through the room and also have bottles of water handy, you may need it when you get thirsty during the process.
Then get the massage oil and also get every other thing that you may need. Some things that you may need include extra towels and even contraceptive especially since there is a possibility that things may get beyond the massage. It is important to leave these things close by so that is handy when you need them. Leaving it far off may be bad because it can break the mood when you leave to get something that is needed.
Step 3: Take care about the lights
If there are any bright lights, then it is time to turn them off and light the candles to create an atmosphere of romance in the room. To make the things better, you can turn on to a romantic music but you have to keep them low.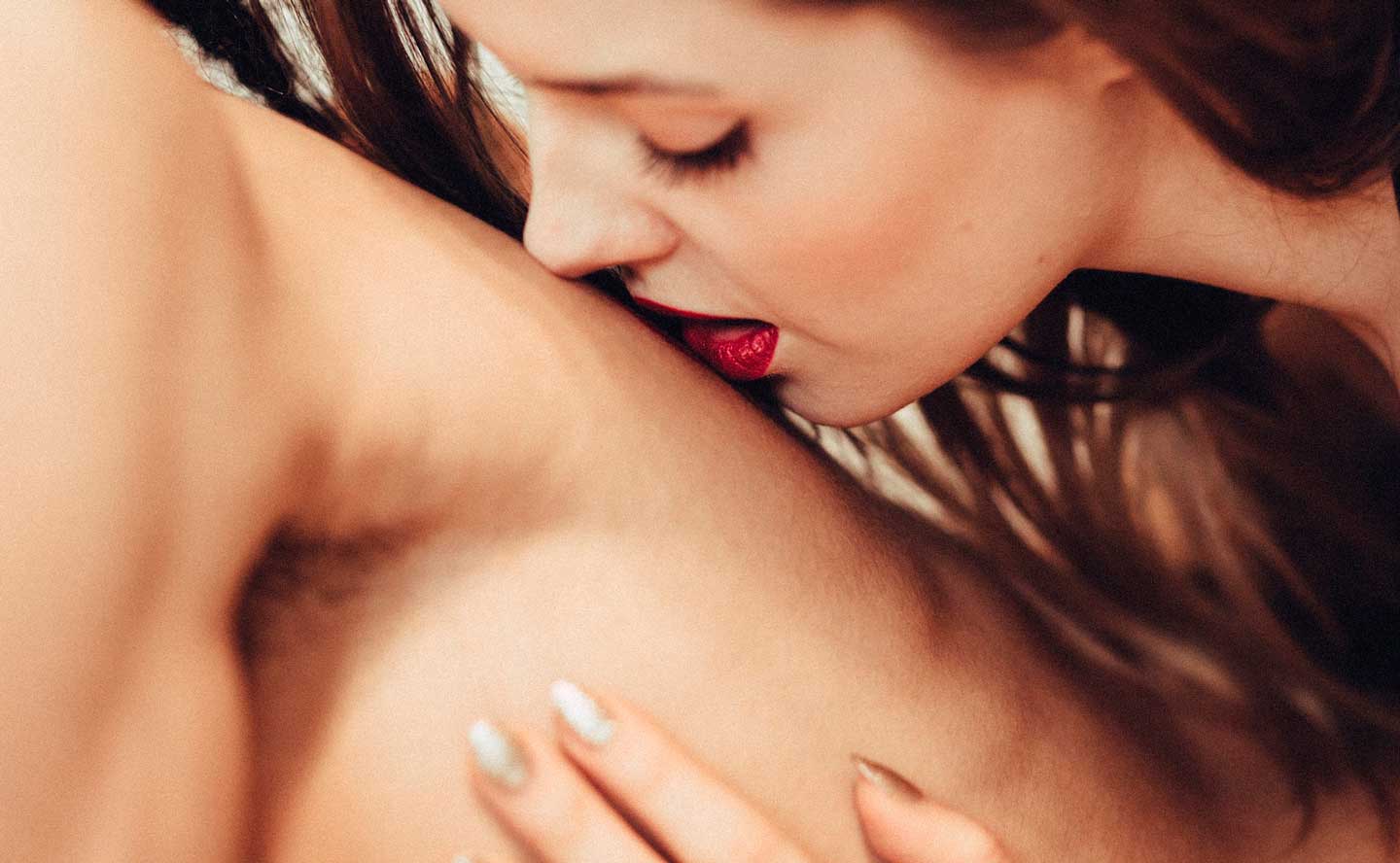 Step 4: Talk to your partner
It is important to lighten up the mood by talking to your partner.
Couples should learn how to talk about the romantic times they have had in the past, the good time you have shared because this can get couples into the mood. You can walk up to your partner and kiss them gently on their chest and shoulders. Continue talking and kissing each other gently and when the mood is right, you both can go to the massage area and undress each other gently lying face down.
Step 5: Start the massage through back and shoulders
Start by stroking the back of your partner and shoulders lightly.
Then gradually move down to their buttocks and the bottoms of her feet. It is important to understand that feet are erogenous zones and the implication is that touching them is capable of igniting some sexual feelings. Make sure that your partner is relaxed as you touch him/her. Put some massage oil on your hands and rub it gently so as to warm up the oil a little bit.
Start massaging the back of your lover with some soft smooth stroke. Sometimes the stroke may appear to hard or soft, therefore it is important to always ask your partner what they feel about the stroke. Use a gentle voice tone to ask your partner if the stroke are too soft or hard. If your partner feels that the strokes are hard or too soft, then you may want to adjust it a little bit to match their desire.
Step 6: Always one hand on your lover's body
It is important to always keep one hand on your lover's body at all times as you move from one part of their body to another. Move down over their body as you continue to massage, stroking their buttocks in a light manner and massage their feet and legs with oil. If you want to do a deep stroking, you have the choice of using your body weight instead of your arm strength.
Step 7: Ask your partner to turn over
At this point, you can then ask your partner to roll over their back.
Get the rolled towels to the back and neck and let them adjust them until they are comfortable. At this point, there is a possibility of the massage oil drying up, if this is so, you can then replenish the oil and warm it up like you did initially. Massage your partners chest, hands, arms and shoulders while you keep one hand on their body at all times. For men, as you move down your partner's body, it is advisable that you stroke their breast and nipples lightly. This is also good for men and women can do it to their man as they move down their body. Brush her genitals lightly as you move down her body. Brush the inner thighs and the pubic area as you gaze into their eyes.
Step 8: Keep emotional connection
Ensure you maintain your emotional connection all through the session.
You can ask your partner what they are experiencing as you massage him/her. Note that maintaining your emotional connection will make the mood during the massage session to become more erotic and this is what you should target. The energy should be allowed to move toward a natural progression and conclude appropriately.
Summary of Things You will Need for Couples Erotic Massage:
As mentioned earlier, the following are the things you will need for this kind of massage
Clean bath towels
Massage oil
Romantic music
Candles
Bottles of water or even wine
Clean flat sheet
Quiet environment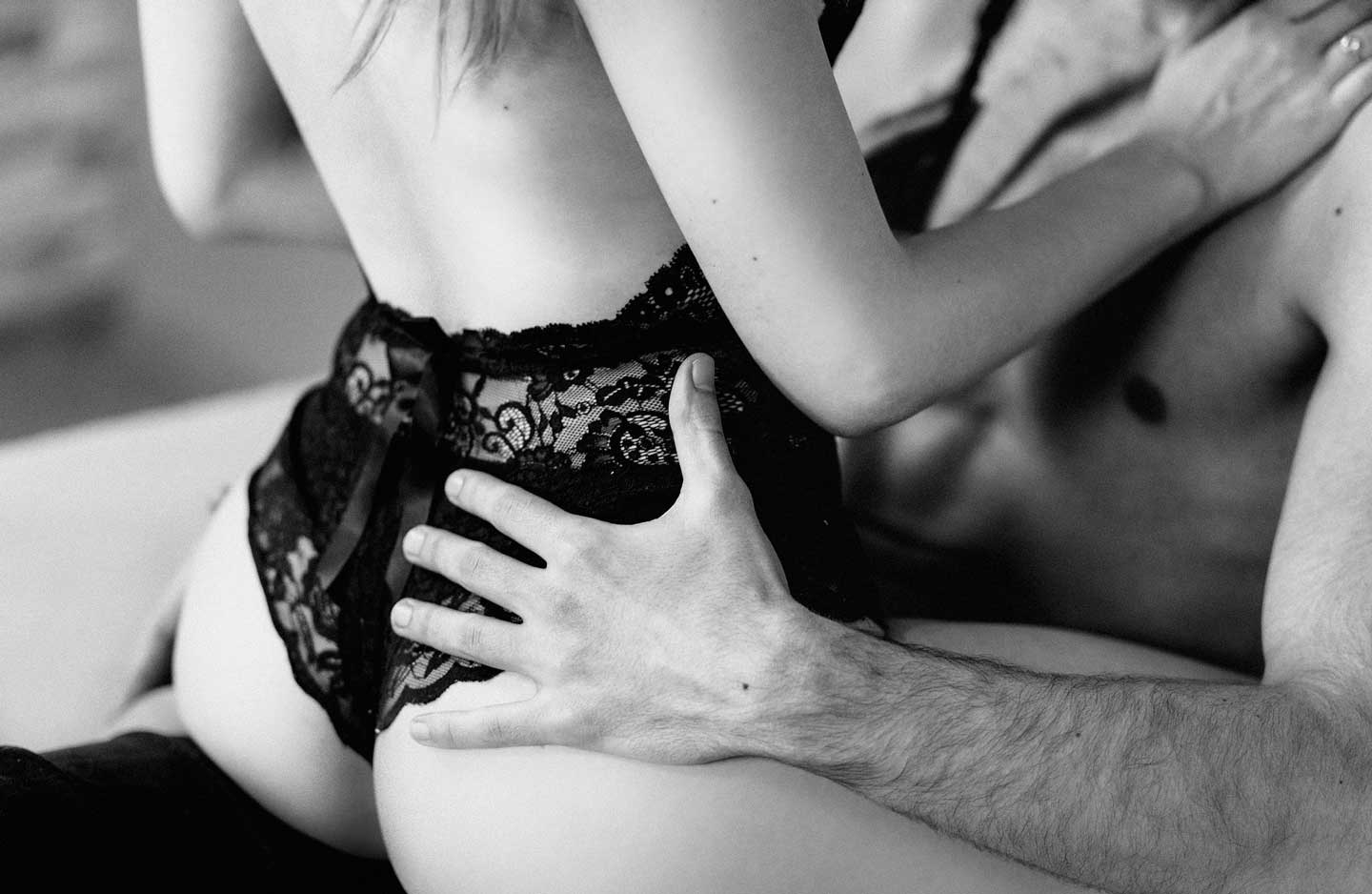 Mistakes that Ruin Couples Erotic Massage
It is important to note that a small mistake can ruin what is supposed to be a very interesting massage session with your partner and you must do everything to avoid them. Some of these mistakes are simple things people often neglect but the count. The following are some of them.
Avoid Dripping Oil into Your Partner's Body
This is something that should be avoided at all cost because it can ruin your day. It is important to understand that cold oil dripping always feel terrible. While it may look attractive in movies but it is a turn off in real life. Avoid doing it to your partner during your massage session.
Avoid Trying To Fix Physical Problems
Couple erotic massage is expected to be a fun filled activity. You do not have to take things to seriously as you are just out to catch some sweet moments. Avoid trying to fix your partner physical problem. Your partner's physical problems shouldn't be your problem because there are people with the right knowledge and experience to tackle them. Your concern should be how to make your partner melt and focus on creating an intimate atmosphere.
Don't Heat Up the Oil
This sounds funny but a lot of people have warm up their oil in a microwave before applying it to their partner during massage sessions. This is wrong and should be avoided. Note that the oil will heat up in your warms hands almost immediately.
Don't Massage with Long Fingernails
It is important clip your fingernails and toenails to avoid scratching your partner accidentally during massage sessions.