The four-hand massage is a 2000-year old relaxation technique from Hindu origins.
In Luxor Madrid we want to use this millenary technique for multiplying the effects and feelings of our erotic massages.
Being performed by two therapists at a time, the effects are doubled, thus intensifying relaxation and eroticism experienced in only one session.
This way higher abstraction and concentration is achieved, carried away by the maximum sensuality and allowing enjoying all the feelings of the moment: an authentic delight for senses.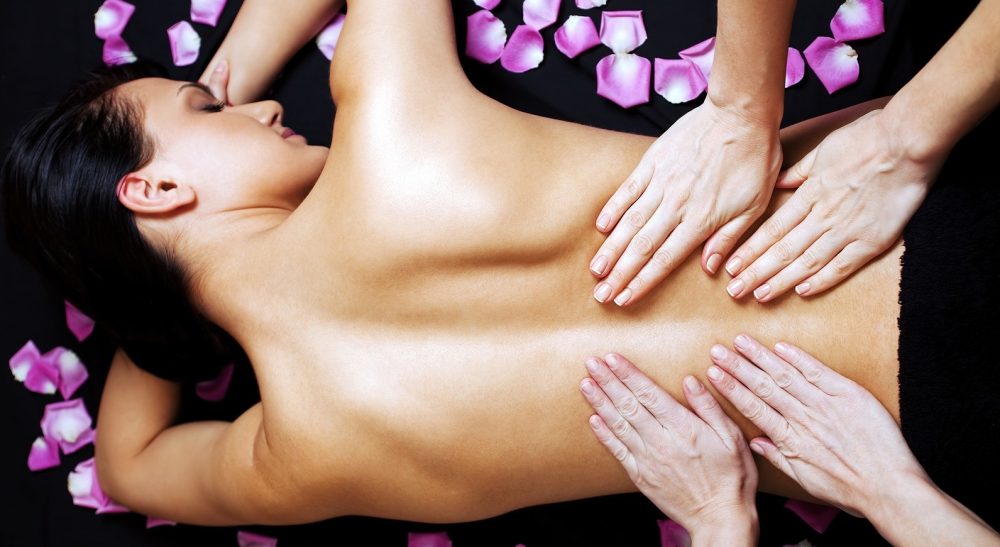 The Four-Hand massage is performed through all our Oriental massage techniques, including Body to Body massage.
In a synchronized way, two of our therapists will perform a very professional massage in all your body, deeply relaxing muscles, stimulating the erogenous areas and taking you to ecstasy through skin-to-skin contact.
Not everyone feels prepared for a massage with this intensity, although all those who dare and try it enjoy a unique Tantric experience: two beautiful women outstanding every second of your pleasure.
The Four-Hand massage is undoubtedly an authentic well-deserved gift, delighting sensuality and body pleasure that Luxor Madrid massages offer.
| Duration | Price | Nature version price |
| --- | --- | --- |
| 60 minutes | 300€ | 400€ |
| 90 minutes | 420€ | 550€ |
| 120 minutes | 540€ | 700€ |
If you wish, you could also enjoy our Four-Hand massage in the "Luxor version", with two genital stimulations or lingam massage:
| Duration | Price | Nature version price |
| --- | --- | --- |
| 60 minutes | 400€ | 500€ |
| 90 minutes | 550€ | 700€ |
| 120 minutes | 700€ | 900€ |