If there is something romantic, then it is a massage between a couple or given to the couple by a therapist prepared for it.
When we talk about romantic massages, we refer to more intimate and sensual massages than the common massage.
The environment will be an important factor at the time of performing a romantic tantra massage.  Make sure that the room is a nice and peaceful place without noise.  The temperature must be appropriate, since this will help to relax.
Another essential element is sexy, relaxing and romantic music that will help you create the perfect atmosphere!  As well as dim lights, so candles will be our best allies to create a very romantic atmosphere.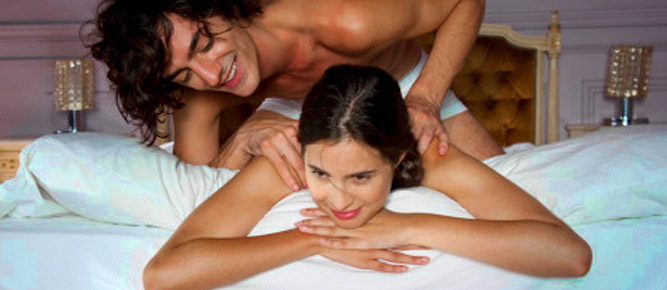 How are the Romantic Massages?
In order to give a romantic sensual massage… It is important to have basic knowledge of how to give a massage.  Using techniques that ensure a relaxing massage for the couple and help them to connect intimately.
When you give a massage with these characteristics you must trust in your hands.  Allow them to follow their intuition on what feels good rather than trying to use a specific technique.
Although the whole body may respond to a Sensual Massage, in Erotic Massages there are certain things you must consider.
It is essential to perform a massage on the back or on the neck.  Since this will increase intimacy between the couple. It is important to relieve stress on shoulders and neck.  Because they are highly sensitive to tension, thus if we relieve stress we will make the couple relax and enjoy the experience of massage.
To not forget on a sensual massage
Do not forget the buttocks and the inner thighs are areas at the time of giving the romantic erotic massage as it is very relaxing, sensual and pleasant.
Some tools can be used to help during the massage, such as massaging balls.  Although it is much more romantic to give the massage with your own hands.
In a romantic massage you may include a soft massage on the breasts and genital area. To massage these areas can result very erotic but also dramatically change the state of relaxation or simply change the expectations of the person who receives it, therefore it must always be something agreed with your partner to avoid breaking the atmosphere created.
If you wish to go a step further it is recommended to go to a specialized massage center for couples where professionals will show you massage techniques that you might not know, so you can use them with your partner every time you want to live a moment of connection and intimacy.
Come to enjoy with your partner our romantic Couple Massages in Madrid.