Oral sex can take your man over the moon and back. But there's a strong possibility of blowing away the chances of rocking your man's world with a blow-job, especially if turn into a nervous wreck and fail to operate on the same wavelength with him.
The most important thing you should know about giving your man oral sex is that it is one of the best gifts you can give him on occasions that call for hilarity, like his birthday, or when he notches a major milestone, or just about any point in time when you feel he deserves a surprise show of unbridled passion. Besides knowing this, here are 5 things you also need to know about getting down orally on your man.
1. You Need To Feel Comfortable With The Act
You need not stress or strain yourself. If you're not comfortable with going on your knees, you can choose other positions that are more comfortable, like lying on your back while he gets on his knees over you, or you can kneel on a pillow or some cushioning.
If the lights or your surroundings make you feel a little shy, then you can turn the lights off. It's normal to struggle with letting yourself go when getting down on your man due to the distractions from your surrounding. Also, you don't need to gag or gobble up his shaft in its entirety; if he revels in deep-throat exploration, another way to give him what he wants is by taking as much as you want to swallow or flapping the tip of your tongue on the tip of his shaft, while you work the rest of his shaft with your hands.
You also don't need to engage your jaws at all times. If you feel your jaws are getting strained, you can substitute the sucking act with some hand job techniques that can still deliver maximal pleasure.
2. You've Got To Love It
If your man realizes that you're not actually enjoying it, that might turn him off instantly. And it's easy for you to give yourself away if you're giving a pity blow job. Part of the pleasure he gets comes from seeing you craving for more of his manly love meat. If there are issues that are preventing you from letting yourself go, like an awful smell or grotesque hairs, you can bring them to his attention in a constructive, heart-to-heart discussion.
You can explain your preferences and what's holding you back from going down on him, without hurting his ego. These issues most likely revolve around hygiene and eating habits. Your man will most likely apply changes (which will probably take only just a couple of minutes per day) in that regard in order not to miss out on the thrills of the oral sexual fantasy. You can take a shower together, so you can take your time to prep him up your way.
3. You Can Make it Even More Unforgettable By Stretching Out The Pleasure
In the first place, it isn't necessary for your man to reach the finish line while you give him a blow job. Most men would love to revel in the thrills of oral sex indefinitely. Although you don't need to pander to such sexual fantasies, you can indulge in a mind-blowing marathon blow job every once in a while. You can stretch out the pleasure trip by working him until he's close to an orgasm, and then stepping back to leave him on the edge of the orgasm fountain. Not only does this produce an incredible sexual experience, it can also condition him to last longer during the sex bouts.
Figure out how to keep him hanging on the edge of orgasm by learning to read his arousal prompts. When you reckon he's almost there, suspend the strokes and let him slowly fall back to lower level of arousal, and then fuel his  arousal all over again. By the time you finally tow him over the finish line, he'll be better off to last longer in bed.
4. You Need to Keep it Draping
Dribble drops! When you keep it wet and slippery, you enhance the intensity of the sensation. Try making do with plenty saliva, and spread it all over his love spear using your hands. If you're finding it hard to generate enough saliva, you can charge up your saliva glands by sucking on a candy bar or drinking water. You can supplement your saliva with natural lubes like almond or coconut oil, flavored lubes, or water based lubes. These also taste great.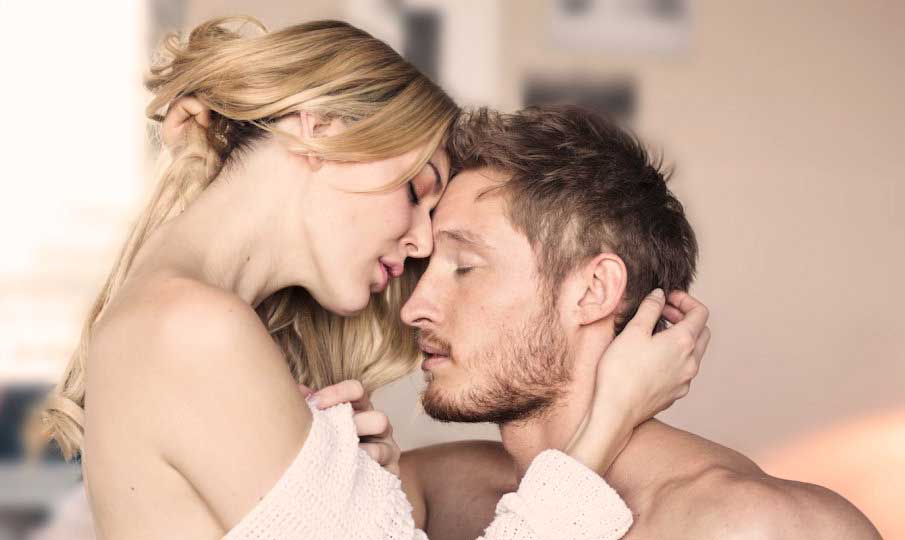 5. Add More Twists and Turns to Spice Things Up
You can make it even more scintillating by using a mix of blow job techniques. Extent the stimulation down to his testicles, and work on his prostate. Stroke his perineum, and if he's a fan of anal stimulation, give his a wonder shot down there. Reach for other parts of his body. Caress his chest, fiddle with his nipples and rub his belly button. Just keep him guessing what you'll do next.
You can also make use of sex toys, talk dirty to him and make erotic sounds as you attack his shaft with your tongue. And as his arousal builds on, increase the intensity of the caresses and strokes, and get more aggressive. Squeeze your hands around his ribs, hips and butt. Don't forget to maintain a passionate eye contact all through.
Conclusions
If you use these tips to go down on your man, you'll be acquiring yourself an ace up your sleeves to make him the happiest man on the planet. Oral sex is one of the best ways of communicating your desires to please him. It's one of the most incredible ways of demonstrating your love and affection towards him. Oral sex not only makes for an incredible sexual experience, it also has the tendency of amplifying the bond you share with each other.